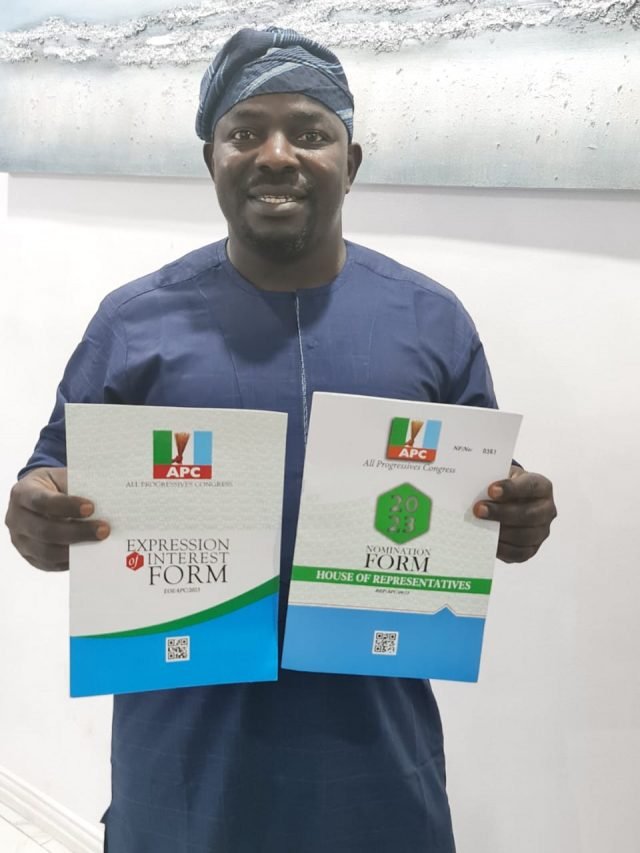 Hon Ibraheem Olayode Iyiola (Dudu Alubarika), a staunch member of the All Progressives Congress (APC) and House of Representatives hopeful, has obtained the expression of interest/nomination forms in readiness for the party's primaries slated to hold in May. The forms were picked by Hon. Ibraheem Iyiola at the party National Secretariat in Abuja accompanied by his teeming supporters.
While speaking to newsmen after obtaining the forms, Hon. Iyiola held that it had always been his passion to serve his people as he believed he had the administrative acumen and legislative capacity to bring dividends of representative democracy to his constituents.
In his words, Hon. Ibraheem Iyiola said, "I am from Ibadan North East/South East Federal Constituency and it is where I intend to represent at the House of Representatives. My intention to contest for the federal constituency seat is borne out of my observation that my federal constituency remains the least advantaged federal constituency in Oyo State and my resolve to change the narratives of misrepresentations to the narratives of invaluable representations."
Hon Ibraheem Olayode Iyiola was the House of Representatives aspirant under APC in 2019 and he succumbed to the pressure of the party leadership then to allow another aspirant to contest. As a staunch party man, Hon. Iyiola has remained loyal to the party. He was one of the few aspirants who stood with party during the storms of defection occasioned by the grievances of impositions of candidates.
Hon. Iyiola famously called Dudu Alubarika is a successful businessman and a philanthropist who continues to touch people's lives positively despite not being in the corridors of power yet.
"What drives me to do active politics is the spirit of service that I naturally possess. I see myself as the servant while the people of my federal constituency are my lords and masters to whom I must return my stewardship," Hon. Iyiola told the newsmen to the applause of party faithfuls present at the party Secretariat.
It is pertinent to note that Ibadan North East/South federal constituency is indeed in a state of redundancy over the last three years and Hon Ibraheem Olayode Iyiola has vowed to restore the constituency back to prosperity with direct people's oriented leadership when elected.