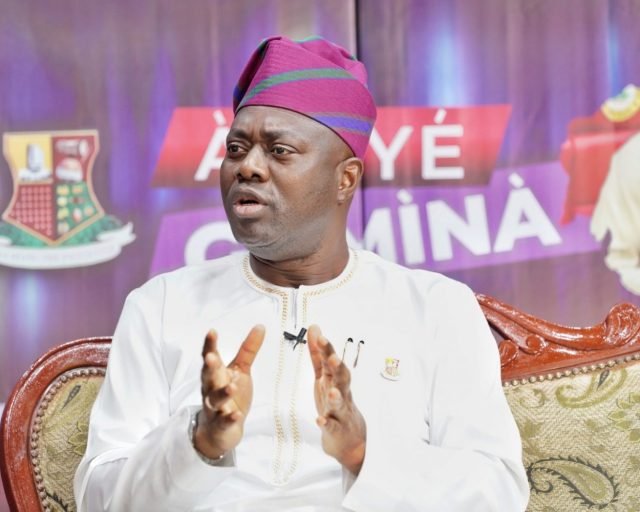 The Oyo State governor, Engineer Seyi Makinde has linked the insecurity in the state to criminal elements hellbent on destroying his administration.
Makinde said this in a live interview with newsmen to discuss governance issues on BCOS TV earlier today.
Responding to questions about Fulani herdsmen in the Ibarapa zone of the state especially an alleged Fulani warlord named Wakili reportedly terrorising residents of the zone, the Governor explained that security has always been one of the main focus of the administration and that is why so much has been spent to strengthen that area of the society.
He further explained that the Amotekun Corp was established to strengthen security in Oyo state, the Ibarapa axis included.
He, however, noted that while the government is doing all of these, there are still some challenges as people are spreading fake news.
Gov Makinde cited the example of Dr Fatai Aborode who was murdered in Igangan. He pointed out that when Dr Aborode was murdered, the rider of the motorcycle he was on was not hurt at all. Also, other people who were stopped alongside the doctor escaped unharmed and confirmed that his murderers were speaking the Yoruba language.
He added that this proves that those who said that Dr Aborode was murdered by Fulani herdsmen were lying.
The governor said, "Dr Fatai Aborode who was murdered in Igangan is someone I've known for a long time. Losing him was very upsetting. But Oyo State is not a jungle. We have to find solutions.
" When I visited Dr Aborode's father, Baba said Dr Aborode was on a motorbike when he was attacked. The rider was not hurt at all. Other people were stopped too and nothing happened to them. The attackers where speaking Yoruba.
I spoke to the security agents and asked them what has been done and directed the CP that the person who did this should be arrested. He has now been arrested and he said he will name all the people that were there on that day. I believe very soon we will get to the bottom of it.
The Governor concluded by saying that he was not disputing the fact that there are criminal elements among the Fulanis. He however said that that the target should be criminals no matter their ethnicity and not one ethnic group in the state.
He said, "I am not saying we don't have Fulani criminals. Yes, we do. However, we must remember that our enemies are criminals no matter their ethnicity. So we must remain focused on going after criminals."