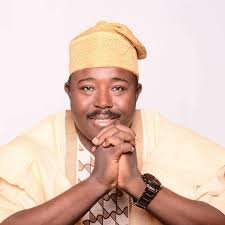 Former Secretary to the State Government and the Governorship Candidate of the Zenith Labour Party (ZLP) in the 2019 general elections in Oyo State, Chief Sharafadeen Alli has prayed for a quick recovery to former Governor of the State, Senator Abiola Ajimobi who is currently receiving treatment over an undisclosed ailment.
In a statement made available to OYOMIND.COM.NG on Thursday, Alli said "the former Governor should be remembered in our prayers.
"We must collectively stay safe and observe all regulations prescribed by the Nigeria Centre for Disease Control (NCDC) and other stakeholders during this ongoing global pandemic," Alli said.
He also warned the Governor of the state, Engr Seyi Makinde to tarry and seek professional advice before considering reopening of Schools, religious organizations, and government offices.
OYOMIND.COM.NG recalled that Governor Makinde had earlier announced the reopening of schools for Primary Six, Junior Secondary School III, and Senior Secondary School III.
Alli said opening schools, government offices, churches, and mosques at this critical time is dangerous and an open invitation to risking the lives of the good people of the state when the number of coronavirus victims is increasing on the daily basis.
He wondered what necessitated the impatience of school reopening especially when examination coordinating bodies (WAEC and NECO) are not in a hurry to commence the exercise.
Alli pointed out that Nigerians were taken aback and marveled when the Oyo state government announced its readiness to reopen schools and religious organizations in a few day's time when other states are still putting heads together on how to find a lasting solution to the ravaging pandemic.
According to the former secretary to the Oyo state government, "this decision is unguarded, untimely and insensitive at the time the whole world is battling to find a lasting solution to the issue of covid 19.
"It is good to consider the reopening of schools, but not at this time that the number of coronavirus victims in Oyo state is increasing. Moreso when it is obvious precautionary steps have not been put in place to forestall further community infection in the schools and public places.
"I will advise you to tarry and seek professional advice before taking such a step."